Insegnante di Breakdance junior e Breakdance big presso la sede di Caselle di Selvazzano
Non ballare per qualcun'altro, balla per te stesso. Be your own Superhero!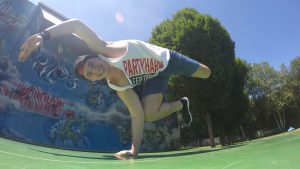 FORMAZIONE:
# Allievo di Roberto Blue
# Numerosi workshop tenuti da Bboy Cico, Bboy Froz, Bboy Ukey, BBoy Dyzee, e molti altri.
ESPERIENZE:
# ballerino di breaking dal 2009
# insegnate di breakdance dal 2014
# In gara in numerosi contest e jam nazionali e internazionali, i piu importanti:
Internationa bboy game – nel 2011-2012
Octorberjam nel 2013-2014
juste debout a Parigi
the week nel 2014
floor wars nel 2014
# In continuo aggiornamento e attivo nel mondo della break, l'anno scorso non si è lasciato sfuggire il Red Bull bc one world final nel 2015!